Low Cost CrestEdg Reporting System with MLS integration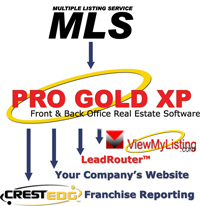 What makes our product unique is that Pro Gold i2 integrates with your local MLS and pushes data to CREST EDG(SM). It is this integration to MLS that makes the ProGold i2 system one of a kind.

With the MLS data integration, and CREST EDG Single Entry, ProGold i2 is your low cost Crest reporting systems to simplify your data entry to Crest.
What our clients have to say...
"The Pro Gold XP front & back office software system saves time, eliminated errors, it's absolutely incredible. You guys deliver what you said would deliver...and more!"
- Jan Paulk - Associate Broker
Century 21 Smith Branch & Pope, LLC "
Get your Listings 1st Page on Google with ProGold i2
(Click Here for Sample)