Low Cost CrestEdg Reporting System with MLS integration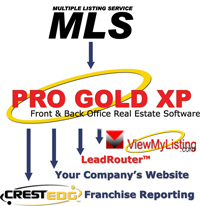 What makes our product unique is that Pro Gold i2 integrates with your local MLS and pushes data to CREST EDG(SM). It is this integration to MLS that makes the ProGold i2 system one of a kind.

With the MLS data integration, and CREST EDG Single Entry, ProGold i2 is your low cost Crest reporting systems to simplify your data entry to Crest.
What our clients have to say...
"Pro Gold XP is proving to be the solution we have been seeking for many years. The seamless integration of the product in all aspects of our office management and the reports it is able to generate is fantastic! The training and support we are provided with is second to none. It's (Pro Gold XP) completeness has allowed us to phase out existing systems in numerous areas of our office and it is the only system that we have found that is integrated with the CREST EDG(SM) reporting system we are required to use as a Coldwell Banker affiliate."
- Theresa Hubbell, Broker
Coldwell Banker Hubbell
Get your Listings 1st Page on Google with ProGold i2
(Click Here for Sample)